It's that time. Those of you who have been fans for awhile probably know exactly what I'm talking about; the bookplate and bookmark giveaway for A TEMPTATION OF ANGELS!
I started giving away free bookplates with Prophecy of the Sisters, because I got so many emails asking if I could sign books, and while I'm always happy to sign books, it does get expensive and time-consuming shipping everything back and forth. Bookplates are a great way to have your book "signed". All you have to do is peel off the sticker on the back and place it in the book right where you'd normally have a signature. Bonus; there's plenty of room for me to write a personal message.
Eventually, I started giving bookplates away free for anyone who preorders and again around the holidays for people who want to give my books as gifts. It's been a big hit with readers, and I think the TEMPTATION bookplates will be even more so because, you guys… these are GORGEOUS.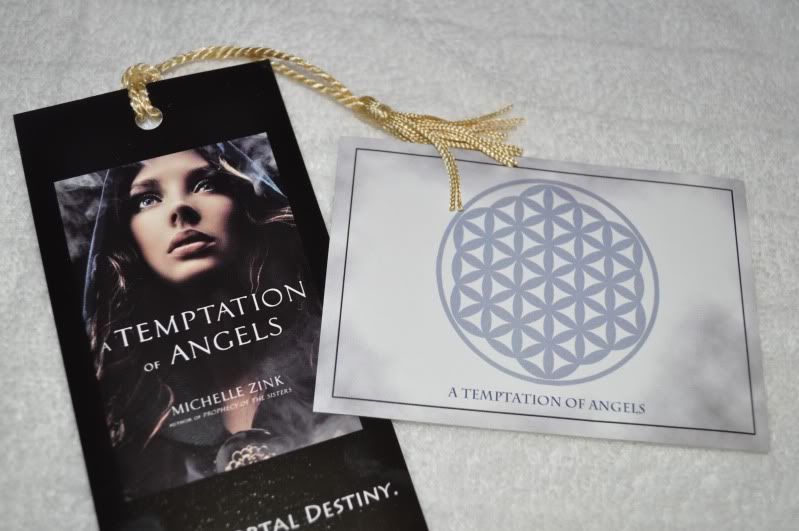 Custom designed to work with the cover, interior art, and a symbol that plays prominently in the story, these bookplates are a limited edition. This year I'm also giving away one of my famously gorgeous bookmarks. Thick, glossy, and complete with a pretty little tassel (and who doesn't like tassels?!), they are really beautiful.
As an added bonus, three readers will be chosen randomly from everyone who submits a receipt to win a BE TEMPTED t-shirt.
My daughters are wearing theirs all over the place – the true test of t-shirt viability, because believe me, they aren't wearing them if they're not cute, and it doesn't matter WHO wrote the book.
😉
Claiming your bookplate and bookmark (and entering to win a t-shirt) is easy! Just send a copy of your A TEMPTATION OF ANGELS receipt (picture, scan, photo from your phone, whatever!) to me at prophecypress@aol.com. Include your mailing address and the name of the person you'd like the bookplate addressed to, and I"ll get your bookplate and bookmark in the mail to you. This DOES include previous preorders, so if you preordered a month or three or six ago, you can absolutely get a bookplate and bookmark plus be entered to win a tee.
The preorder giveaway is valid for US and Canadian residents from today through Tuesday, January 31st at Midnight EST.
Yay!
<3